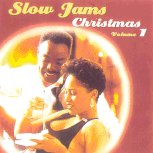 Now more than ever 'tis the season to be jolly!!! In celebrating one of the most cherished of holidays, MusicFreaKCentral.com is pleased to offer two seasonal CDs designed to enhance your Christmas spirits and bring hours of joy and entertainment duirng the Holiday Seasoin!!
The Christmas Reggae Album is a compilation of timeless Christmas tunes with an added reggae twist. Hear your favorite reggae and dancehall artists sing carols and Christmas love songs!! This CD features performances from Beres Hammond, Pam Hall, Sanchez, Wayne Wonder/Baby Cham, and Lady Saw to name a few! An excellent way to bring some "Caribbean" flava to your Christmas listening!
Christmas Slow Jams Vol 1 features classic Christmas hits of yesteryear, sung by your favorite R&B masters of the 60s, 70s, and 80s. These tunes have long been heard over the air waves at Christmas time, but now you can get them all on one CD for your own personal enjoyment! Listen to classic Christmas carols and love songs from groups like Temptations, The Ojays, Nat "King" Cole, and the Stylistics! A Must Have for your Christmas CD library!
THE CHRISTMAS REGGAE ALBUM

1. STARTING TODAY - BERES HAMMOND
2. CHRISTMAS IN THE AIR - SANCHEZ
3. THE CHRISTMAS SONG - MIKEY SPICE
4. GIVE LOVE ON CHRISTMAS - FIONA
5. LITTLE DRUMMER BWOY - A.R.P.
6. FELIZ NAVIDAD - SONYA COLLYMORE
7. EVERYDAY IS CHRISTMAS - FREDDIE MCGREGOR
8. JOY TO THE WORLD - NIKESHA LINDO
9. WINTER WONDERLAND - PAM HALL
10. WARM JAMAICAN CHRISTMAS - W. WONDER & CHAM
11. RICH MAN FOR CHRISTMAS - LADY SAW
12. HOLIDAY MADLEY - DEAN FRASER
13. CHRISTMAS IN THE AIR (DANCEHALL MIX) - SANCHEZ
CHRISTMAS SLOW JAMS Volume 1

1. SILENT NIGHT - THE TEMPTATIONS
2. HAPPY HOLIDAYS TO YOU - THE WHISPERS
3. THE CHRISTMAS SONG - THE WHISPERS
4. AT CHRISTMAS TIME - LUTHER VANDROSS
5. IT'S CHRISTMAS TIME AGAIN - THE TEMPREES
6. THIS CHRISTMAS - DONNY HATHAWAY
7. THE CHRISTMAS SONG - NAT "KING" COLE
8. PLEASE COME HOME FOR CHRISTMAS - C. BROWN
9. WHAT DO THE LONELY DO AT X-MAS - THE EMOTIONS
10. IT'S CHRISTMAS ALL YEAR LONG - THE STYLISTICS
11. CHRISTMAS GIFT - MARGIE JOSEPH
12. HAVE YOURSELF A MERRY CHRISTMAS - THE O'JAYS