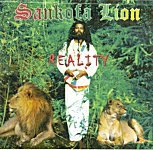 The Island Ride Music Family is proud to announce the release of Island Ride Music recording Artist: Sankofa Lion's new Album/CD entitled "Reality". Sankofa Lion is a member of the critically acclaimed House of Judah Band, a musical group comprised of 4 talented individuals united in the common message of spreading the Rastafarian culture through song. House of Judah has released two previous works: Movement Rising (1999) and Nazarites (2000).
While Sankofa Lion is still an active member of the House of Judah, "Reality" marks his first solo effort. This album is a project that Sankofa Lion holds dear to him, and features songs that draw heavily from the Rastafarian beliefs that have influenced his life so heavily. The album is ingeniously punctuated with clips from an interview with Sankofa Lion conducted by JamworldReggae.com and MusicFrEaKCentral.com's own Andrew "Prince TuFFiE" Campbell.
"Reality" is now available at leading reggae record stores and distributors! You can also purchase this CD right here at MusicFrEaKCentral.com! House of Judah's two previous works (Movement Rising (1999) and Nazarites (2000)) can also be purchased via this website. For more information on this rising star, please visit sankofalion.com!