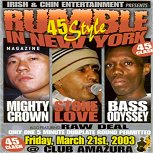 RUMBLE IN NEW YORK 45-STYLE (QUEENS) <In 2001 Killa Bo took the first SHOOT OUT and a star was born! In the next ALL-STAR 45 SHOOTOUT Matterhorn took Killa Bo to school! For 2K3 Irish & Chin Entertainment continued the tradition by inviting 4 more sounds to tek up di argument of who can juggle strictly 45s!! The contendees: Mighty Crown (who ripped up the 45 Round at WORLD CLASH 2001), Bass Odyssey (who dun the 45 Round at WORLD CLASH 2002), Stone Love (a veteran at juggling 45s, and a force to be reckoned with in the clash arena as they proved at DOUBLE TROUBLE 2002 when they went up against David Rodigan), and Raw Deal (a wicked sound outta DC with a heavy dub box and lots of "heart"!
In this all out death match that was filled with more surprises, disappointments, almshouse than an CBS Network soap opera, the Japanese sealed another victory when Mighty Crown walked away the overall winner of the war! But that's not to say they killed anybody, because it was they themselves that almost got buried in the Dub Fi Dub when Skinny and Mark of Bass Odyssey rallied back in the Dubplate Round and led the Dub Fi Dub with some unlikely selections of 45s!! In fact, depending on how you look at it, you could say Bass Odysse ywon the clash!!
So what happened to the Immortal Stone Love and DC warhead Raw Deal? Well the Immortal and Raw Deal duked it out and the DC boys basically give it to the 30+ year old sound in a special one on one elimination round between the two that was added to the clash when the crowd "supposedly" couldn't decide who must go!!!
Special Notes: 1) Wickedest Round - Mighty Crown's Second Round! 2) Wickedest Personal Attack - Raw Deal draws "Sammy dead, Sammy dead, Sammy dead-ohhh" on Mighty Crown. 3) Raw Deal let off two wicked Burning Spears; 4) The referees took forever to relay obvious decisions throughout the night, adding about an extra hour of wasted time to the clash. But thats just our take on the issue, decide for yourself what really went on!!! A Must Have!> (Also Available on Audio Tape) (Vol 1-3) 3-21-03